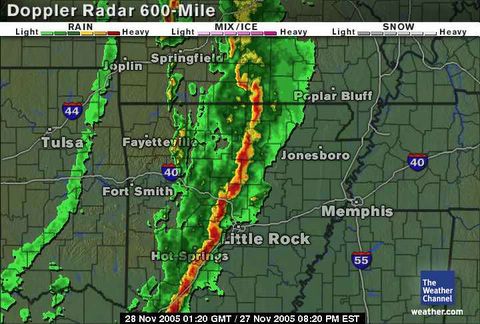 it was a dark and stormy night in Little Rock....

so this is the current weather radar for arkansas as i type this. how frightening is that? so far we haven't seen much at our place of residence. no sirens yet either. but lots of emergency alerts and constant weather reports over regulary scheduled programming. is it sad that i am slightly dissapointed i might miss desperate housewives and/or grey's anatomy. yeah, that is sad. it was about 80 degrees all day - i wore a Tshirt and flip flops to Target for gods sake (i know - classy!). the weather has been "bonkers" here lately. if there IS a tornado, i guess we should hide in the bathroom? this is not the first time i wish we had a basement! stupid south! we don't EVEN have an emergency plan. but karl says it looks like we are just going to get some major rain and strong winds here. we might loose our power and then i couldn't BLOG. tragic!

happy three months today of being married! yea! 92 GLORIOUS days. er... whatever. fun stuff. we are thinking of breaking into our cake topper - instead of once a year, i think once a quaRter! (three months, six months, nine months, and one year!) i mean it isn't possible to eat it all in one night right?

i am told i have been slacking in my blogging duties so i will try to pick it back up for your DAILY enjoyment. we shall see how that works out!