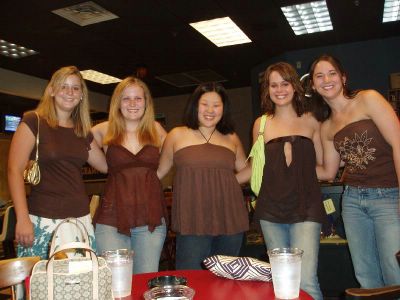 I think the title of my little sister's email and picture was "brown is the new pink!" they swear it was accidental. these are some of her girlfriends and roommates. she lives with nine other girls in a big ole house in milwaukee. (they go to marquette)

they have no air conditioning and it is aparantly like 90 degrees there. i still don't think it compares to the arkansas heat/humidity of the day.

pictured: emily, my sister jen, jess (whose 21st birthday celebration was just beginning in this particular shot), ali, and some other fun girl in brown named jessica. HAPPY 21st BIRTHDAY JESS.