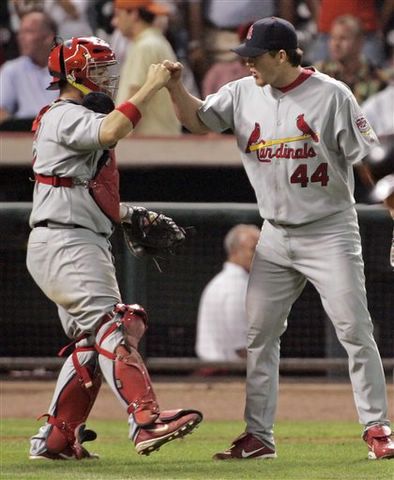 despite all the incessant BUZZING and towel waving, the cards win in houston and head on back to St. Louis for Game 6! the astros lead the series 3-2, but i have faith the cards will bring her home!! the poor astros have never been to a world series - they are getting all nervous.

as for me, the weekend with mike and linda was great.. we just hung out and ate a lot and showed off our house!

yesterday i had to make a doctor trip (i hate doctors) to get my ears irrigated. (doesn't that sound like fun? trust me, it is not pleasant...) they blast out all the wax "plugs" (ew) in your ears with water. fun stuff. (i can hear now!) karl also made a trip to the doctor - sinus infection... and he got some nice prescriptions so also good news. I am sure you all care about our sick little bodies!!

roxy and arlo say hi and they want you to come over and play.